We would like to show you in a few and very simple steps how to use your Couple or Family coupon correctly.
IMPORTANT: With the Couple or Family Package you have not only bought one title with 2 or 4 certificates, but 2, respectively 4 full titles with all supplements. With the Couple Package you have 2 main titles with one free partner certificate each and with the Family Package you have 4 full main titles with one free partner certificate each. So 8 certificates included.
Learn now how to redeem your Groupon.
Single Package: please put in the name for the first certificate and, if you like, the name for the free additional certificate. Select any accessories you like (not included, there will be a charge). and click "ADD TO CART".
Couple Package: follow the steps for a single package. After clicking on "ADD TO CART", please do not leave the site. Just put the next names into the fields "Name on certificate" and "Additional certificates". So you get 2 complete titles. Now please go to "VIEW CART" and check out.
Family Package: please follow the steps as described for the couple package. Please add all in all 4 titles following the steps above. One by another.
Ready? OK, let´s go to view our cart and check out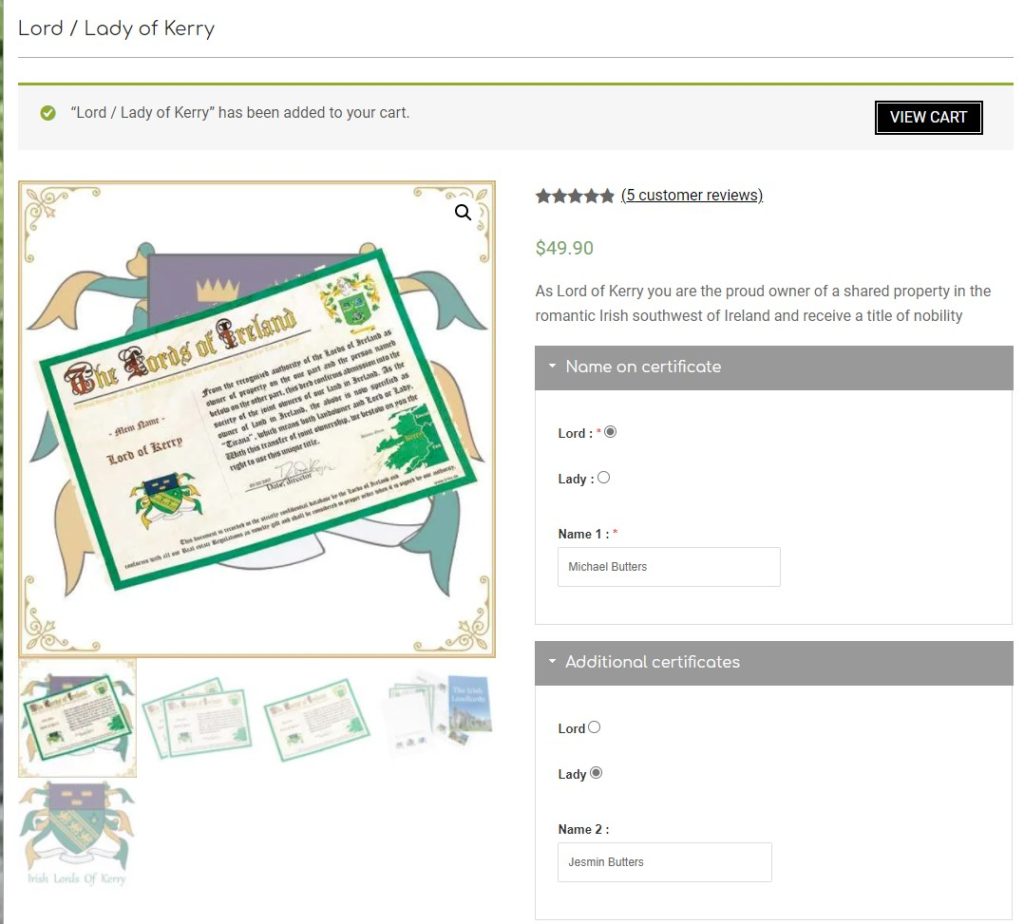 View your cart and check out
In this field (follow the green arrow) you can put in your code. Honestly, all codes are checked twice and work properly. If you note any error message, we suggest copying the code from your Groupon pdf and pasting it here.
IMPORTANT: Please make sure that you do not mix up a 1 (one) for an "L" or an "O" for an "0" (zero) or something like that.
Brilliant. Now let´s see how your voucher deducts the amount it should be good for.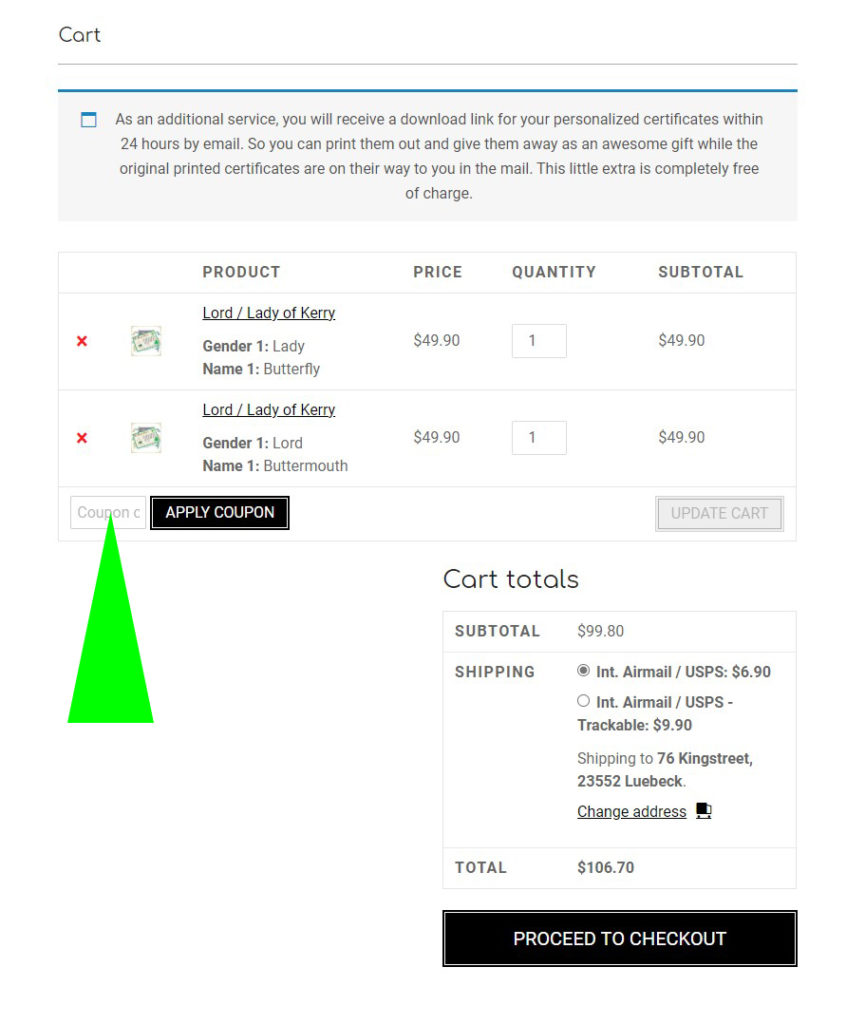 Check your voucher
Now please click on "APPLY VOUCHER".
You will see, the vouchers amount has been taken from your bill. For a single package voucher it is US$ 49.90, for couples it should be US$ 99.80 and for a family voucher it is US$ 199.60
Now the rest is as easy as finding a well-attended pub to drink a Guiness on a Sunday afternoon in Kerry.
ORDER NOW (opens a new window to let you come back here easily)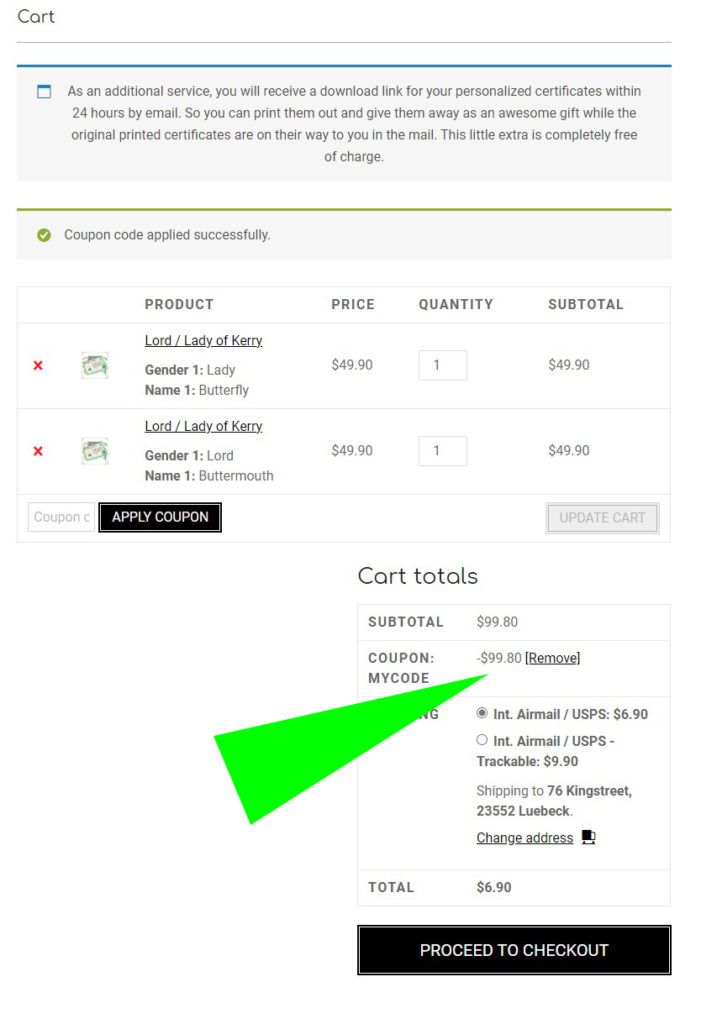 If you get any error messages, please check your goupon for misspelled letters (the old "o for an 0" story) If you are sure, you put it in absoloutly correct and it must be something else, please contact us. We will help to get you your nobility titles. Contact us
Now you get very quickly all the certificates by email .
Please check your email address while you order. It is very important that this is correct, otherwise, we can not send you the certificates by email. Please keep this in mind when you order your noble title from Kerry, Ireland:
ORDER NOW (opens a new window to let you come back here easily)